Lash Extension Course Vancouver
Eyelash Extension Training in Vancouver
If you're interested in becoming a certified lash technician or simply want to expand your beauty skills, our lash extension course in Vancouver is the perfect opportunity for you. Our comprehensive training program covers all aspects of the lash extension application process, from safety and sanitation to different lash styles and techniques.
Our experienced instructors will guide you through the theory and practical components of the course, providing hands-on training and personalized feedback to ensure you're fully confident in your abilities. By the end of the course, you'll be able to confidently apply lash extensions and provide exceptional service to your clients.
Whether you're looking to start a new career or add to your existing beauty services, our lash extensions course in Vancouver is the perfect investment in your future. Join us today and take the first step towards becoming a skilled and certified lash technician.
Start Your Career in the Beauty Industry with Our Lash Tech Course in BC
Potential benefits of becoming a lash technician and why you should consider enrolling in our lash tech course.
High demand
Lash extensions have become increasingly popular in recent years, with many people seeking to enhance their natural beauty. As a lash technician, you'll have the opportunity to meet this growing demand and provide a valuable service to your clients.
Flexible schedule:
Many lash technicians work on a freelance basis, which means you can set your own schedule and work as much or as little as you want. This flexibility can be especially appealing for those looking for a side hustle or a career change.
Creative outlet:
Applying lash extensions is a form of artistry, which can be a rewarding creative outlet for those interested in the beauty industry. You'll have the opportunity to experiment with different styles and techniques to create custom looks for each client.
Increased earning potential:
As a lash technician, you can potentially earn a higher hourly rate compared to other beauty services. Plus, as you build a loyal client base, you can increase your rates and earn even more.
Low startup costs:
Compared to other beauty services, starting a lash extension business requires minimal startup costs. All you need is your training, a lash kit, and a comfortable space to work in.
Rewarding career:
As a lash technician, you'll have the opportunity to help clients feel more confident and beautiful. The positive feedback and gratitude you receive from satisfied clients can be incredibly rewarding, making this career path fulfilling on a personal level.
Comprehensive Eyelash Extension & Cosmetic Tattoo Training
Whether you're looking for eyelash extension training in Vancouver or you're more interested in learning all there is to know about permanent makeup, StyLash & Brow Bar isn't just known for offering the best eyelash lift in Vancouver. We've also been perfecting the art of teaching eyelash extensions and permanent makeup in Canada since 2009.
 Over the years, we've worked hard to perfect our training and courses. We are dedicated to providing top-of-the-line training and educational classes. We do so because we want to ensure success in your career and satisfaction with your future clients.
In other words, we're confident that with our professional-level classes, you will learn the right habits that will lay the foundation for success in your career.
 At the same time, we understand that when it comes to training in both eyelash extensions and permanent makeup, it can feel overwhelming to pick the right training program for you. However, rest assured that at StyLash & Brow Bar, we are completely dedicated to training.
 We take the time to perfect our classes and training methods, and will always innovate and adjust our offerings to reflect changes that we see occurring in the industry.
Our Mission
Our mission is simple: To teach you the correct, most up-to-date, and safest applications of eyelash extensions and permanent makeup techniques, without gimmicks or overselling.
 We want to help you learn in the simplest and friendliest manner to make learning approachable for all, while also ensuring the growth of your client list and your business.
Our classes are designed for any skill level. Whether you want to perfect your technique or jumpstart a new career in an exciting industry, we can help you become more comfortable with this precise and intricate skill.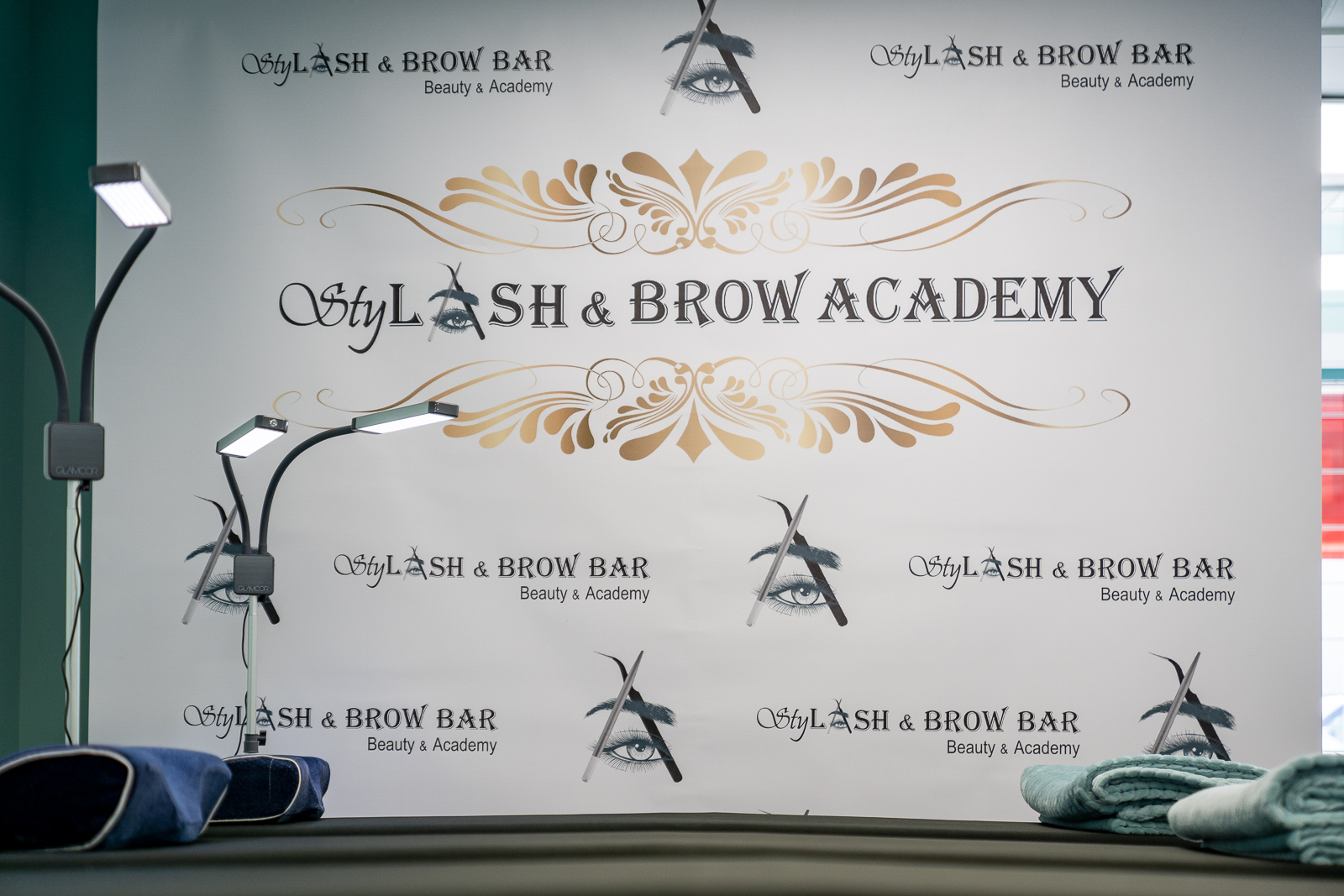 What to Expect When You Join Our Academy
StyLash & Brow Academy has trained thousands of successful Lash and Permanent Makeup Technicians from all over the world — and now we want to help you get in on the action!
When you join our academy, you will receive our StyLash & Brow Academy Certificate, allowing you to get on the right path to a highly profitable and in-demand career.
 Rest assured that our team of highly skilled professionals will guide you through every step of your journey to success in the art of eyelash extensions and permanent makeup applications.
Whether you have experience in this field or not, there are no requirements or extra charges to take our course. You'll receive everything you need for in-class practice and after-class training.

Some of the things our students love about our classes and training include:
Small Classes:

Practice hands-on, one-on-one with your master instructor, in a friendly environment that will leave you feeling comfortable, confident, and in control of your new skills.

Reputable Certification:

Our program is certified, reputable, and will steer you forward in your career.

Complete Kits

: When you join our academy, you will receive our Premium Kit, specially designed and tested to include the best products in the market.

Master Skills: We teach new and updated techniques to set you apart from other artists.
A Sample Course Outline For The Fundamentals
Overview of Volume and Classic Eyelash Extensions

Products to Use for Application

Health, Safety, and Proper Sanitation

Performing a Proper Client Consultation

Review Different Types of Individual Eyelash Extensions, Lengths, Thicknesses, and Curls

Application Process

Lash Selection

Fill Procedures

After Care and Product Knowledge

Recommended Cost of Service

Certification Process
 After your training, you'll be able to apply eyelash extensions with skill, confidence, and precision.
 Still not convinced that StyLash & Brow Bar Academy is right for you?
Let us go over our offerings to give you a better feel for pricing, timeline, and the skills you can expect to have obtained once you've completed the course/training.
Courses Offered at StyLash & Brow Brow Bar Academy
Two Day Eyelash Extension Workshop: $1,990
If you're interested in enrolling in a comprehensive eyelash technician course in Vancouver, this two-day workshop is for you.  
Streamlined and jam-packed with all the information you need to get your eyelash extension business started off on the right foot, this workshop will allow you to become a certified expert in this ever-growing industry!
We won't waste your time with gimmicks or the pesky sales tactics that you might have seen promoted in other lash extension training programs. Instead, we focus our attention on hands-on training, skills, and safety.
We'll even allow you to practice your newfound skills on a live model, all under the careful supervision of our certified professors at StyLash & Brow Bar.
This class has been designed for students who are interested in learning the art of individual eyelash extensions application. Students will learn Volume/Classic application technique, safety, and client care.
To ensure that you're able to get the most out of the workshop, we'll provide you with your own Eyelash Extension Deluxe Kit. In it, you'll find all the proper tools and equipment that you need to work through the course with confidence.
And lastly, it's important to note that this course does not require that you have any prior knowledge or training in eyelash extensions. Whether you're new to the art, or you're hoping to brush up on your skills, this course is perfect for beginners and professionals alike.
Bottom line: If you're interested in learning a precise, in-demand skill that can advance your career and get you the clients you've been dreaming of, this is the best lash tech course in Vancouver, and we can't wait for you to give it a try.
Contact us today to enroll in our Eyelash Extension Workshop.
Basic Fundamental Permanent Makeup Course: $4,990
More and more, women are seeking beauty solutions that can help them save time and streamline their routines. Because of this trend, we've seen the popularity of permanent makeup grow by leaps and bounds in recent years.
With that in mind, mastering the art of permanent makeup and providing the best client experience possible can put you ahead in your industry.
However, while we strongly feel this is a skill that can advance your career, we also know that it is a skill that requires in-depth training, focus, and dedication. We put emphasis on this extensive training because of the nature of permanent makeup being something that lives with your client for multiple years.
Because this training offers the best permanent makeup in Vancouver, you can expect to spend 100 hours of training.
In doing so, you'll not only be certified in the art of permanent makeup, but you'll also feel confident that your permanent makeup technique is one that your clients will appreciate and recommend to others.
What types of permanent makeup will I be learning in this course?
There are various types and forms of permanent makeup. In this course, we'll specifically be focusing on:
 

Eyebrows: magic shading (i.e. ombre technique for softly shaded brows)

Eyeliner:

soft-liner, eyelash enhancement, classic liner

Lips: aquarelle technique (i.e. lip blushing technique to enhance the client's natural lip shade)
What can I expect to learn during this permanent makeup course?
You can expect to learn the most up-to-date permanent makeup techniques from the most skilled professors.
To expand, here are some of the things our students love about our permanent makeup course:
Extensive Theory Discussion: No course is complete if you don't understand the proper theory behind it. We'll go over everything you need to know about safety and precision when working with permanent makeup.

Most Up-To-Date Permanent Makeup Techniques:

Feel confident knowing everything we teach is up-to-date and on-trend with all the latest updates in the industry.

Intensive Training (live models):

We love theory, but we also understand that learning without a hands-on approach isn't effective. Apply the theory you've learned by testing your skills on a live-model (under the supervision of one of your master professors).

Small-Group Classes:

Receive the one-on-one training that you deserve to ensure your skills are as impressive as possible.

Premium Starter Kit:

Start the course off on the right foot with all the proper tools and equipment provided to you.
If you're interested in learning all there is to know about permanent makeup, let us help you build a thriving business with our comprehensive training.
Contact us today to enroll in the best permanent makeup school in Vancouver.
Do you have questions about The Academy at StyLash & Brow Bar?
When it comes to furthering your career, choosing a program that suits you is of the utmost importance.
 While we're confident that we offer all the fundamentals you need for permanent makeup, along with the best lash extension course in Vancouver, we understand that you may be seeking additional information or have specific questions.In these instances, we welcome you to reach out so we can discuss.
 As mentioned, we're here to offer you the most comprehensive training in these ever-expanding industries. We want all of our prospective students to feel fully confident that our academy is the right learning opportunity for them.
While we know you're the kind of enthusiast who enjoys receiving beauty treatments, it's time to stop googling microneedling near me, and it's time to start being the one who provides the treatments with your newly learned skills. 
We'll be more than happy to discuss any concerns you might have regarding your education, so we can get you started in your career ASAP. For questions, contact us today and become a certified lash technician with our Vancouver training program.